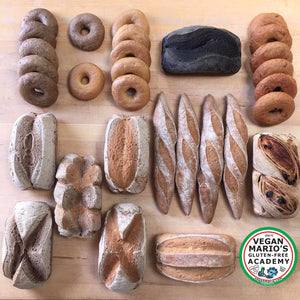 Vegan Mario's GF Academy Foundational Education
I know you've been searching far and wide. You're so close now!
Healthy and Clean GF Baked Goods are just an education away.
My Foundational Education Course has all the information and support you will need to create baked goods like Pizza, Bagels and Bread, as well as Sourdough Pasta and Ravioli. I'll even teach you how to create a non-dairy cheeze for your Ravioli.
Keep reading and let's see if we're meant to work together.
If you have a difficult time following directions, this may not be for you. Attention to detail is a must in this art.
If you're not into creating the healthiest sourdough food for you and your family, this may not be for you. Regular sourdough baking is much simpler.
If you don't like to ask for help when you need it, this may not be for you. I like to ensure the success of my students, and clear communication is a MUST.
If you enjoy following directions, this will be great for you. You will find freedom once you understand the core concepts.
If you're into creating the healthiest food for you and your family, this is definitely for you. Prebiotic, probiotic, oil free, dairy free and just CLEAN FOOD.
If you can ask for help when you need it, our private Telegram group will be the perfect support for you and help propel you to success.
If you love to consciously create in the kitchen, and this ALL sounds good to you, keep reading and I'll tell you exactly what I'd like to offer you.
The 3 biggest values of joining our GF Academy:
#3 Ongoing GF Sourdough Support
You get 3 months of Sourdough Support directly from me via my private Telegram group... that means I'll hold your hand until we get your GF Dough recipe tuned up! We'll make sure that your loaves are baking to perfection, that your pasta texture's perfect and that your Cheeze is the creamiest. Do the work with me and GF freedom is in sight. We can do this together. This is a HUGE value.

#2 Sourdough Starter Insurance
Even though I'll be showing you the fine art of creating your very own "sourdough mother" from scratch, from which all your breads will be born, LIFE HAPPENS... For one reason or another, you may lose your starter. Well, I've got your back. Just send me an email and I'll send you some of mine!!!  I look out for my students! I know that once you get baking, it becomes a way of life, but sometimes things happen. This item usually goes for $49 for a single cup. Starter insurance has got your back if you ever need it. I just ask you to cover shipping, and my mother is your mother ;)

And, in my opinion, THE MOST VALUABLE part of the course.... the true key to freedom...

#1 THE RATIOS
For the very first time, EVER, I am offering my award-winning ratios to use as a base for your own gf mix recipes. The art of baking is a practice in consistency. I will help you to build a strong base understanding of your ingredients so that you can find consistency with your own ingredients. Together we will build you a flour recipe that you can use for any dough. When I create custom recipes for businesses, my rate starts at $14,000 (I just literally pulled up an old invoice to check).

***While taping this course, I also decided to create a Non-Dairy Cheeze Masterclass (I thought you could use some cheeze for your bread)***(sold alone for $397)

Text me at 805-500-3287 with any questions... we can *schedule a call* from there if needed to discuss the course further.
On Teachable we offer many PDFs and 60+ videos to help you learn and succeed.
Join anytime!!! Let me be your guide to gluten-free FREEDOM! :)

I will ship you all the ingredients you need to get started!!! I
Taking this course to start a side hustle or maybe something even BIGGER? Ummmm... Great idea.
 I've created this program for both home bakers and professionals.
(For professionals that want to get certified there are a few more steps.)

When you watch the videos, and get your hands full of dough, you will become an expert in all areas of gluten-free dough making. I will be there supporting you via our private Telegram group.

Do it for your own personal health security, do to bring even more value to your relationships with your family and friends... absolutely run with it, and manifest THE VERY BEST SIDE-HUSTLE ever.

You'll have access to my student store with student pricing and a mentor in me. I'll be cheering you on ALL THE WAY!
HERE is a full list of all the videos currently in the course as of December 1, 2021:


Welcome (0:28)
 Important Announcement (2:03)

 Tools of the Trade (1:08)

 Weights and Measures (11:32)

 Baking Equipment (6:22)

 Bowls (2:47)

 Whisks (2:15)

 Spatulas (6:11)

 Blades (6:05)

 Rolling Pin (1:03)

 Blenders (0:50)

 Laser Thermometer (0:36)

 Rejuvelac (0:43)

 2021 Class Series LIVE Meeting #1 (51:33)

 Introduction to Ingredients (0:43)

 Sourcing (5:32)

 Flour (1:48)

 Starches (2:01)

 Psyllium Husk (4:51)
Sourdough Starter Cultivation
 Your Package Has Arrived (4:17)

 Feeding Your Mother (8:44)

 After Feeding Your Mother (0:53)
Make Your Own GF Sourdough Starter Masterclass (45:00)
Time to Make Bread
 What You'll Need for Your First Loaf (1:17)

 Mixing the Sourdough (12:13)

 What about the Mother? (1:22)

 Baking Equipment & Readiness (2:01)

 Getting Your Dough in the Oven (8:12)

 Bread Formation DETAIL (2:50)

 Bread Scoring DETAIL (5:54)

 Baguette Formation (15:18)

 Convection Oven Settings (0:14)

 Taking Your Bread Out Of The Oven (5:55)

 Once the Bread Has Cooled, Time to Inspect Our Work (7:33)
Creating Your Own Custom Mix Recipe
 Sourdough RATIOS Presentation (58:15)

 RATIOS for EVERY DOUGH Presentation (33:49)
Bagel Time!
 Preparation for BAGELS (1:38)

 GET THAT WATER BOILING (0:06)

 BAKE TIME AND TEMP SETTINGS (0:05)

 3 Methods of Bagel Formation (2:52)

 Ball and Poke Method PART 1 THE BALL (5:01)

 Ball & Poke Method Part 2 THE POKE (4:46)

 Boiling Your Bagels (1:22)

 Getting Your Bagels into the Oven (0:40)

 BUZZZZZZZ Bagels are ready! Let's inspect our work. (2:46)
Non-Dairy Cheeze Formulation Masterclass (74:11)
Who is ready for Gluten-free Sourdough Pasta?
 Pasta Dough Introduction (5:48)

 Pasta Dough Method Detail (7:56)

 Pasta Dough Fermentation Analysis (3:11)

 Pasta Shaping Introduction (5:39)

 Ravioli and Tortellini (25:29)

 Noodles (Linguini) (11:12)

 Penne Butterflies and Spirals (11:20)

 My (Used to be) Secret Marinara Recipe

 Cooking Your Noodles (Linguini) The Cold Water Bath Method (4:31)

 Cooking Your Fresh Pasta (Penne, Ravioli, Spirals...) (10:13)

 Probiotic Alfredo Sauce (14:06)

Glutenfree Gnocchi (non-sourdough) (57:15)

Let's make Gluten-free Sourdough Pizza!
 Pizza Dough Introduction (6:06)

 Pizza Dough Method Detail (3:47)

 Pizza Dough Fermentation Analysis (7:15)

 Pizza Dough Balling 1 (6:55)

 Pizza Dough Balling 2 (3:56)

 Pizza Sauce (14:35)

 Pizza Toppings (9:00)

 Let's Make Some Pizzas (34:49)
SWEETS AND TREATS
 SWEETS AND TREATS DOUGH AND Q & A (61:04)

 Sweet Bread Formulation (10:10)

 Babka Formation (10:13)


My GF Academy will prepare you to thrive in the art of making dough. Attendance is prerequisite for Vegan Mario's GF Certification.
Questions can be asked via email, text or Telegram for daily support. The class comes with over 60 videos in addition to PDFs, so you can learn the art of bread, bagels, pizza, cheeze, pasta, sauce, and sweets at your own pace! The GF Academy is the ONLY place I share my very best ratios, tips and techniques. 
Questions about the Academy? I'm happy you asked. Just text me at 805-500-3287 or send an email to mario@veganmario.com.
I'm stoked to help you achieve your GF goals and I'm eager to meet you.

FAQs
What equipment will I need?
The most important piece of equipment to source is a cast iron bread pan. My students have the best success with cast iron, and I strongly recommend getting at least a couple to get you started. I like the made in USA Lodge cast iron, but anything iron will do nicely.
What ingredients will I be sent via mail? Will I need to purchase any ingredients for the course?
You will get all the flour ingredients you need to get started. You'll receive brown rice flour as well as 2 of my sourdough bread mixes. You'll also get a jar of my very own gf sourdough starter to get you going.

Once I complete the class, where will I get ingredients?
For the bread, bagels, pizza and pasta, you can continue to get the pre-made mixes from me, or you can mix your own with the ratios I teach you in the course. Additionally, other ingredients, you can source wherever you like, but we all share sourcing information for things like cashews, brown rice flour, strained tomatoes, etc. in the Telegram group.
Why don't you just give us recipes?
Not all flours are created equally. The brown rice you may be able to get could be very different from the one I can get. Recipes are too restrictive and have caused a lot of frustration in the past. Students who followed recipes to the T, couldn't understand why they were not getting the results they wanted. It's because not all ingredients are created equal. That's why I have made my mix available to you... or we tune up your mix with your ingredients in the class and in the Telegram group.

 TESTIMONIAL
The gluten free academy is the best investment I've made for my health and taste buds in a long time. I love making food and being in the kitchen but gluten free sourdough has always been such a daunting task. After several years of trying to make my own starters and getting loaves that I was less than impressed with I gave up and thought I would have to live without the amazing tangy crusty heaven that we call sourdough, unless I ordered loaves online. It has been such an empowering experience to finally be able to bake sourdough at home confidently— to know that I can have fresh baked bread at home as often as I decide and that I can decide how sour I want it to be or if I want to add anything to it. 
I decided to enroll in GF academy while going through a severe Crohn's disease flare up. What usually would have otherwise been one of the hardest times in my life has actually become a really wonderful period of immersing myself in something I love, with a community of people who are equally as excited about dough as I am. I have found solace in the amazingly detailed recorded lessons, the telegram support, and most importantly letting go of my fear of sourdough and scales. The GF academy has changed my perception of dough and fermentation entirely. It is the perfect intersection of science and creative expression. My family and friends have been so spoiled with the tortellini and pizzas and pastas and delicious fermented cheeses and bagels I've learned to make, and everyone is happy to be a Guinea pig for fresh baked goodies. 
This course is seriously a godsend and worth every dime. I love everything about it, and I'm so excited to see pictures of everyone's amazing creations on telegram.
...
My entire family sees how much happier I am
Thanks Mario!

Salma D. Santa Monica, CA
Payment options are available,
Schedule a call with me and let's make it happen!

---
We Also Recommend